Technological advancements continuously pose a challenge to IT companies in order to differentiate themselves from their competitors. Increasingly, a company's success is highly dependent on its ability to market its products and services effectively to the right audience as digital solutions proliferate and new technologies emerge rapidly. This article provides a detailed description of how IT companies can improve their marketing strategies, determine their target audience, and better understand the current IT market landscape in order to generate more leads and ultimately grow their business.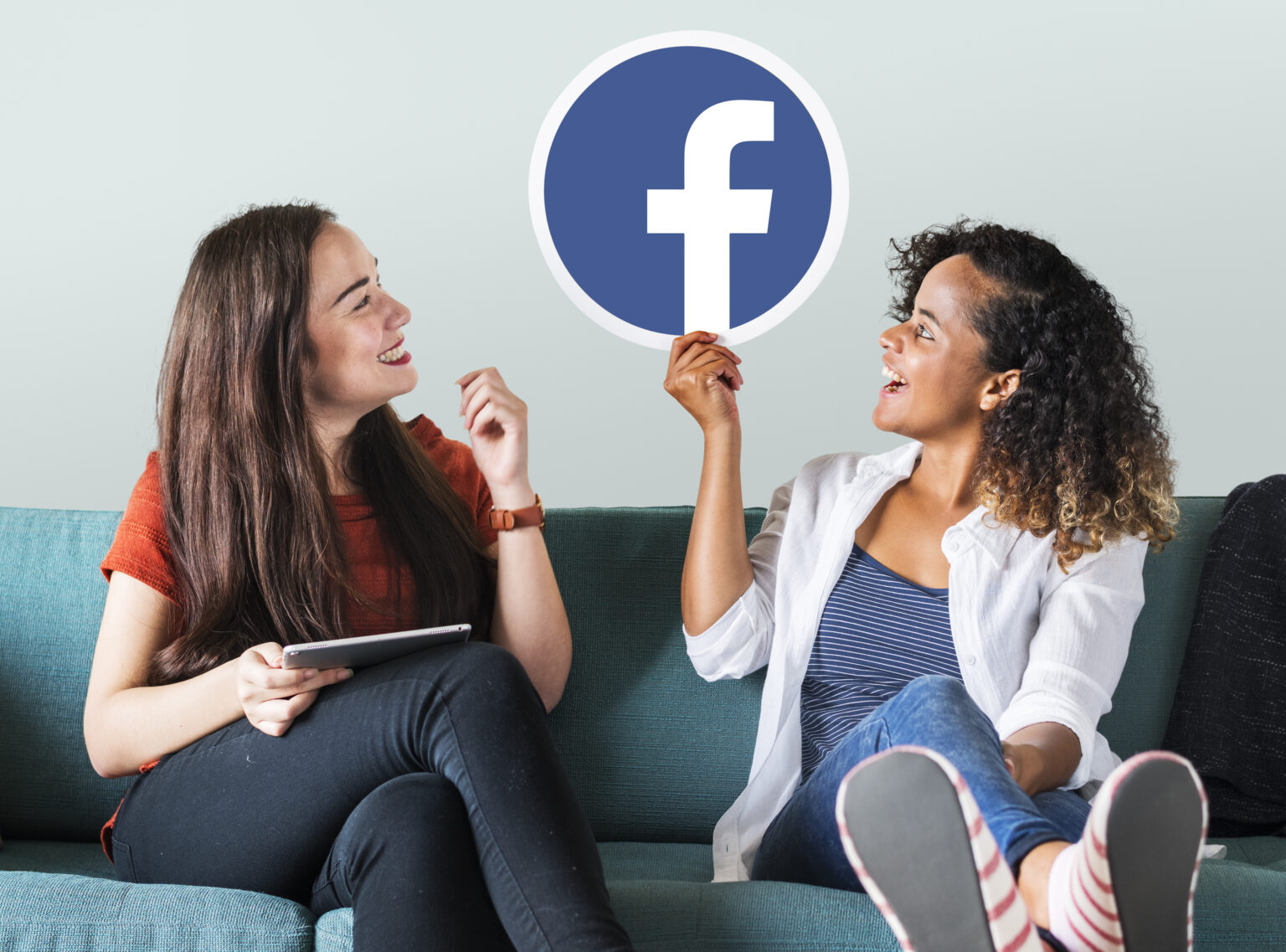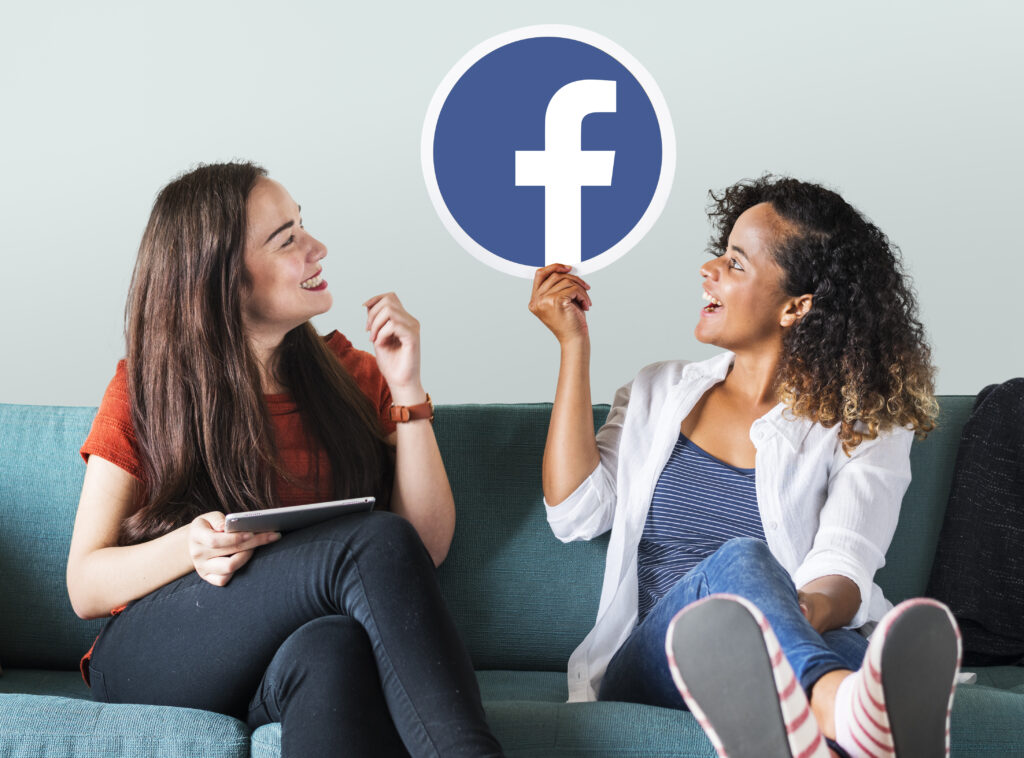 Understanding the IT Market Landscape
It is imperative to have a deep understanding of the industry landscape in order to successfully navigate the fast-paced IT market. Global economic and sociopolitical influences, technological innovation, and consumer expectations continuously drive the IT market. In order to remain competitive, IT companies need to stay abreast of the latest trends and developments.
Among the major trends of the past few years has been the shift toward digital transformation. More and more businesses are leveraging technology to operate more efficiently, provide better customer experiences, and grow their businesses. A wide range of IT services have been driven by this trend, including cloud computing, data analytics, cybersecurity, and digital marketing. Identifying these needs and tailoring your offerings to meet them can provide a competitive edge for IT companies.
The rise of new technologies, such as artificial intelligence (AI), machine learning, and the Internet of Things (IoT), has also reshaped the IT landscape. IT companies face both opportunities and challenges as these technologies create new markets and disrupt existing ones. Machine learning and AI are capable of enabling more personalized customer experiences and enhancing business processes, but they can also lead to job displacement and privacy concerns.
Further increasing the use of IT solutions is the global COVID-19 pandemic, which has accelerated remote work and online business models. This has led to a growing demand for solutions that support online transactions, data security, and remote collaboration.
Keeping up with the pace of change is crucial in this fast-changing environment. As a result, you must constantly monitor the market, anticipate emerging trends, and be prepared to adapt your strategies and offerings in response. Additionally, it involves understanding your competitors' offerings, how can you differentiate yours, and who are your main competitors.
In order to comprehend the information technology market landscape, one must not only identify opportunities but also identify risks and challenges. Regulations may change, security threats may emerge, or customer preferences may change. Being aware of these factors will allow you to take proactive measures to mitigate risks and capitalize on new opportunities.
IT companies seeking to stay competitive and grow must understand the IT market landscape dynamically. Being aware of the latest trends, anticipating changes, and being prepared to adapt will help you stay one step ahead of the competition.
Identifying Your Target Audience
Marketing efforts are most effective when they are aimed at your target audience. Crafting marketing strategies that resonate with your customers requires an understanding of who they are, what they want, and how they make decisions.
The first step should always be to develop detailed buyer personas. You can use these to develop a fictional, generalized picture of your ideal customers. They help you visualize your audience, understand their needs and pain points, and tailor your marketing and product development efforts to meet those needs.
It is also necessary to understand the industries in which your target audience operates in order to identify your target audience. You may be able to provide solutions to a variety of industries as an IT company. Your products or services can be tailored to address the unique challenges faced by each of these industries. You can create targeted marketing messages that effectively communicate the value of your offerings to potential customers by understanding these nuances.
Identifying your target audience is crucial to the success of your business in the world of IT, as in any other industry. In addition to guiding product development, customer service, and marketing strategies, this knowledge is essential to every aspect of your business. In order to increase your business growth, you must effectively identify and understand your target audience in order to engage them more deeply and address their needs more accurately.
It is essential to begin by identifying who your ideal customer is, and then to dig deeper into their behavior, needs, and preferences. The purpose of this exercise is to develop a detailed profile of the buyer known as a buyer persona.
Creating Buyer Personas
A buyer persona is a fictional representation of your ideal customer. You will be able to identify and target your existing customers based on market research and real-life customer data, including demographics, behavior patterns, motivations, and goals.
Considering the highly technical nature of IT products and services, it is imperative that you understand what motivates your customers to make certain purchases. Would your product or service be able to alleviate their pain points? Can you tell me what their goals are? Your answers to these questions will help shape your marketing messages, ensuring that they address these pain points and goals directly.
When creating a buyer persona for the IT market, consider factors such as the size and industry of the company, the role of the individual who makes the purchasing decision, their technical literacy, their preferred method of communication, and the challenges they face that your product or service can solve.
Understanding Industry Nuances
Your target audience may be drawn from a wide range of industries in the IT market. There are characteristics and challenges unique to every industry. Depending on the industry, your products or services may address specific problems or facilitate particular objectives.
An example is a company that offers software as a service (SaaS) that targets both the healthcare and education sectors. There are vast differences in the needs and regulatory environments of these two industries. If you are able to understand these nuances, you will be able to tailor your product offerings and marketing strategies to appeal more effectively to each segment.
Researching and Gathering Data
Utilize both quantitative and qualitative research methods in order to accurately identify your target audience. You can gain valuable insight into your target audience's demographics, behaviors, and preferences through surveys and questionnaires. Additionally, personal interviews can provide a deeper understanding of the situation.
It is important to obtain information from existing customers. Identifying who is already buying from you can provide you with valuable information about your target audience. Consider your customer's demographics, their use of your products, what they value about your products, as well as their common pain points.
The Power of Segmentation
Though understanding your audience as a whole is essential, not all customers in your target market have the same needs. Marketing can be more effective and personalized if you segment your audience into different subgroups.
A segmentation approach could be used in the IT market based on factors such as the size of the company, the industry in which the company operates, the specific challenges faced by the company, or the specific role of the individual making the purchase decision. There may be a slight difference in the needs and marketing tactics of each segment.
Revisit and Revise
Your target audience's needs and behaviors may change as markets evolve and new technologies emerge. Your marketing campaigns will remain relevant and effective if you regularly review your buyer personas and audience segments.
You should understand your target audience on a continuous basis, not just on a single occasion. Keep your finger on the pulse of your audience's changing needs as your business grows and as the IT market continues to evolve.
A critical step in developing effective marketing strategies for the IT market is identifying your target audience. With a deeper understanding of your audience, you will be able to deliver more personalized, targeted marketing, which will lead to better customer engagement, more leads, and ultimately, increased business growth.
To help IT companies generate more leads, we will explore growth hacking techniques, profit maximization, scalability, and more, in the subsequent sections.
Building an Effective Marketing Strategy for the IT Industry
The IT industry relies heavily on marketing strategies to achieve business success. A content marketing strategy involves leveraging your competitive advantage, employing data-driven tactics, and utilizing content marketing to attract, engage, and convert potential customers.
Leveraging Competitive Advantage to Attract Leads
In order to differentiate yourself from your competitors, you must have a competitive advantage. You may be able to identify it through the unique features of your product, superior customer service, cutting-edge technology, or even the reputation of your brand. Your marketing efforts should emphasize this in order to attract potential customers.
The first step in leveraging your competitive advantage is to understand what it is. Identifying what you do better than your competitors may require you to conduct a SWOT analysis (Strengths, Weaknesses, Opportunities, Threats). Your marketing messages should be guided by your unique selling proposition (USP).
It is a significant competitive advantage if your company specializes in cybersecurity and employs industry-leading encryption technology. Highlight this feature in your marketing efforts and the peace of mind it provides to customers who are concerned about data breaches. As a result, you may be able to attract leads that seek IT solutions that are highly secure.
Using a Data-Driven Marketing Strategy to Improve ROI
Decisions are made based on analysis and interpretation of data in a data-driven marketing strategy. With this tool you are able to gain a deeper understanding of your customers, personalize your marketing efforts, and measure the effectiveness of different marketing strategies.
By utilizing data effectively, you can improve the ROI of your marketing activities and guide your decisions. By analyzing customer behavior, market trends, and previous marketing campaigns, you can determine what marketing campaigns are successful and which are ineffective.
The analysis of data collected from a website, for instance, can reveal which pages visitors spend the most time on, providing insight into their interests. In addition to content creation, PPC advertising, and SEO strategy, the results of this analysis can inform your decisions. Your marketing strategy will be more effective if you concentrate on what is proven to work, therefore improving the return on investment.
The Importance of Content Marketing in Attracting and Engaging Leads
Content marketing involves developing and distributing useful, relevant content that attracts, engages, and converts target audiences. The use of content marketing is a powerful tool for companies in the IT industry, where the products and services are often complex.
Through content marketing, you can demonstrate your expertise, provide solutions to your audience's problems, and build trust with your target market. In this regard, you could create blog posts that explain how your products work in layman's terms, videos that demonstrate how your services can benefit your clients, or case studies that depict the benefits of your solutions in real-life scenarios.
This type of content can generate leads by enhancing your search engine optimization, offering valuable information in exchange for contact information (lead generation), and engaging users on social media channels. It is also beneficial to provide valuable content to establish your brand as a thought leader within the IT industry, which may help to foster trust and encourage prospects to choose your company over the competition.
Consequently, in order to build an effective marketing strategy for the IT industry, it is necessary to understand and leverage your competitive advantage, to use a data-driven approach, and to utilize content marketing. With the integration of these elements, you can increase the number of leads you receive and improve the efficiency of your marketing campaign.
Whether you are focusing on B2B or B2C marketing, SEO for IT companies is a game-changer when it comes to generating organic traffic to your website and converting visitors into business. Your online reputation is vital to your IT company, as your customers are often tech-savvy users who expect the best.
To convert visitors into customers, you'll need measurable goals and a strategy to achieve them. Good Search Engine Optimisation will ensure that your website is at the top of Google's rankings when a potential customer searches for an IT company. By developing an SEO scheme with clear KPIs, whether they are traffic, lead generation, or brand awareness, you will be in the best position to generate real leads that become paying clients.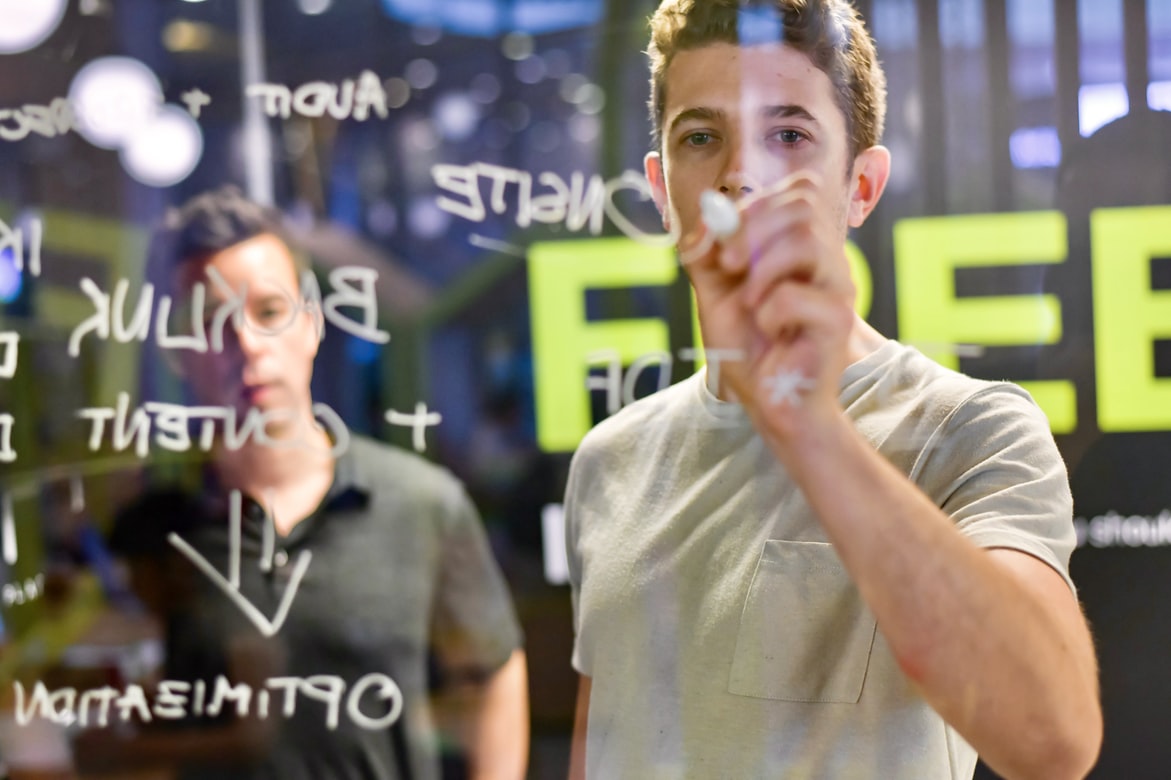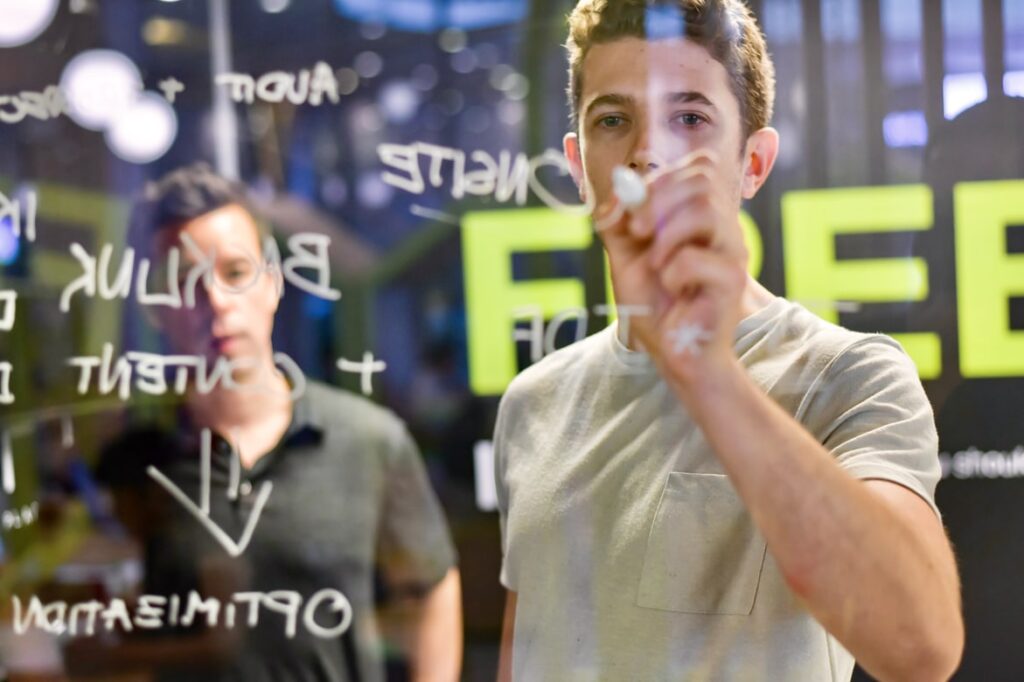 Given that IT is a competitive industry, you'll also want to identify and promote your specific niche or topic. Through your website, articles and even blogs you can demonstrate you are a thought-leader and authority in your area. You'll want to provide great content that visitors to your website find useful and engaging. By gaining trust and showing brand visibility you'll have that much needed edge over your competitors.
As with any online business, taking advantage of social media platforms can be a huge asset to marketing your IT company. These are places where you can demonstrate your authority on your given niche, and even give advice and answer questions.
Facebook and Twitter are ideal for building relationships with clients, both current and future. You can prove that you have great customer support, and establish your company as one that responds to the needs of its followers. Facebook also offers an advertising service that directly targets the client base most likely to need your services. The ads are not expensive and even offer A/B testing.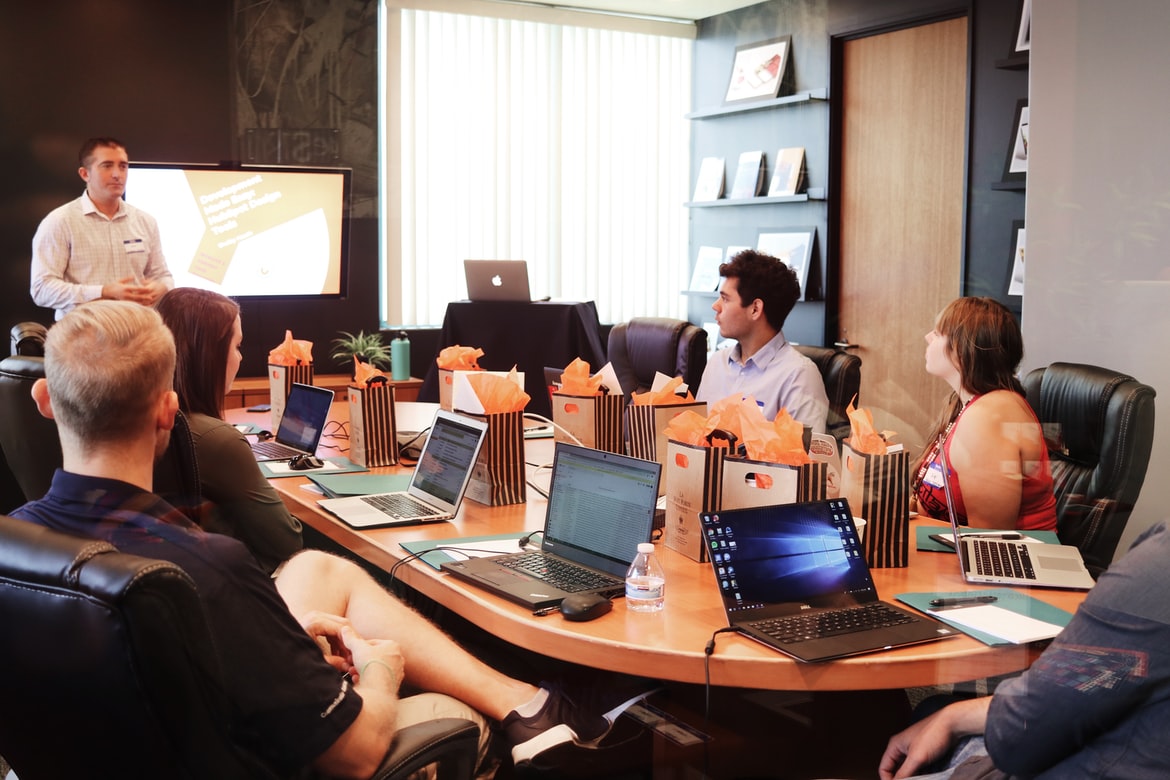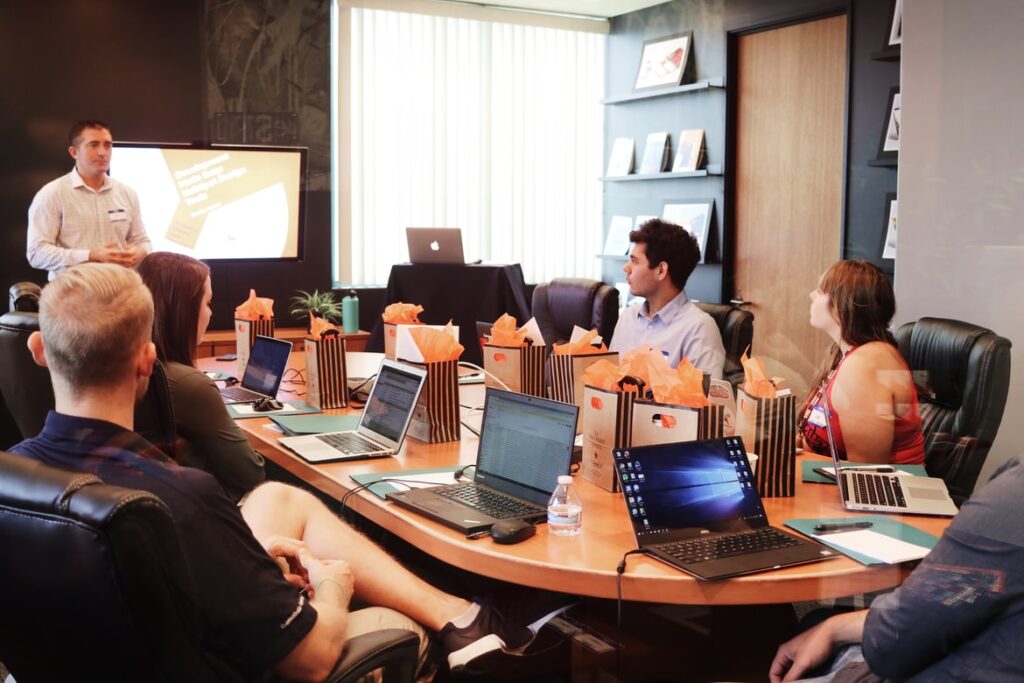 LinkedIn is also a great way to build relationships and is ideal for IT companies because the users tend to interact on a professional basis. By taking part in discussions and posting articles relating to your field you can really build brand awareness and increase visibility. The credibility customers attach to LinkedIn means that 76% of buyers of IT products say they get recommendations from their LinkedIn network. This is a great place to become a thought-leader, by posting quality blogs, articles and even videos.
Email marketing is another inexpensive tool that can lead to big returns. By marketing to your current customer base you can expect a much higher conversion as you're targeting those who are already interested in your company. You can even segment your email list so that certain promotions only reach those who meet a particular criteria. That way, you maintain your relevance to your customers, who in turn will be happy to continue receiving information from you.
Why do IT Companies Need to Implement Search Engine Optimisation?
SEO is vital for any company that wants to generate more business through increased traffic to its website. By using well researched keywords throughout your website, articles and blogs, search engines such as Google will give your site a high ranking. Around 75% of users choose which websites to visit from the first page of results, so it's vital for your company to appear at the top of their search.
Competition amongst IT support companies is high, and the content you create for users and customers needs to be high quality if you are to retain your customer base and reach out to new clients. Moreover, Google will only give your website a high ranking if your articles are useful to the reader. It's no longer any good just peppering your content with keywords – the articles themselves have to be relevant, helpful and interesting to read. Google will soon pick up on an article that's written just with keywords in mind, and will penalise the site by giving it a low ranking.
By creating good content, you can also hope that customers will keep returning to your website, and will even share articles with others who will then in turn show an interest in your company. Google will also test your content for EAT – Expertise, Authoritativeness, Trustworthiness. Customers look to IT support companies for help and advice, so it's crucial that the advice you provide meets this criteria. Make sure that any content you produce is written by experts in the field and that they have the credentials to back up their claims. You can also link your website with other sites in the same field. This substantiates your authority and can offer good value to your visitors.
Why Focus on Organic SEO for IT Services Companies?

Organic searches account for around half of all website visitors, particularly in B2C business, so it's a hugely valuable way of generating traffic to your business. It's also a low-cost marketing solution because you are not paying for advertising, but relying on your own, excellent content to sell itself to prospective customers. Organic SEO also has the advantage that the visitor already has an active interest in your business, and a reason to search for you to solve their problems. This is far more likely to convert someone into a paying customer than a cold-calling advert.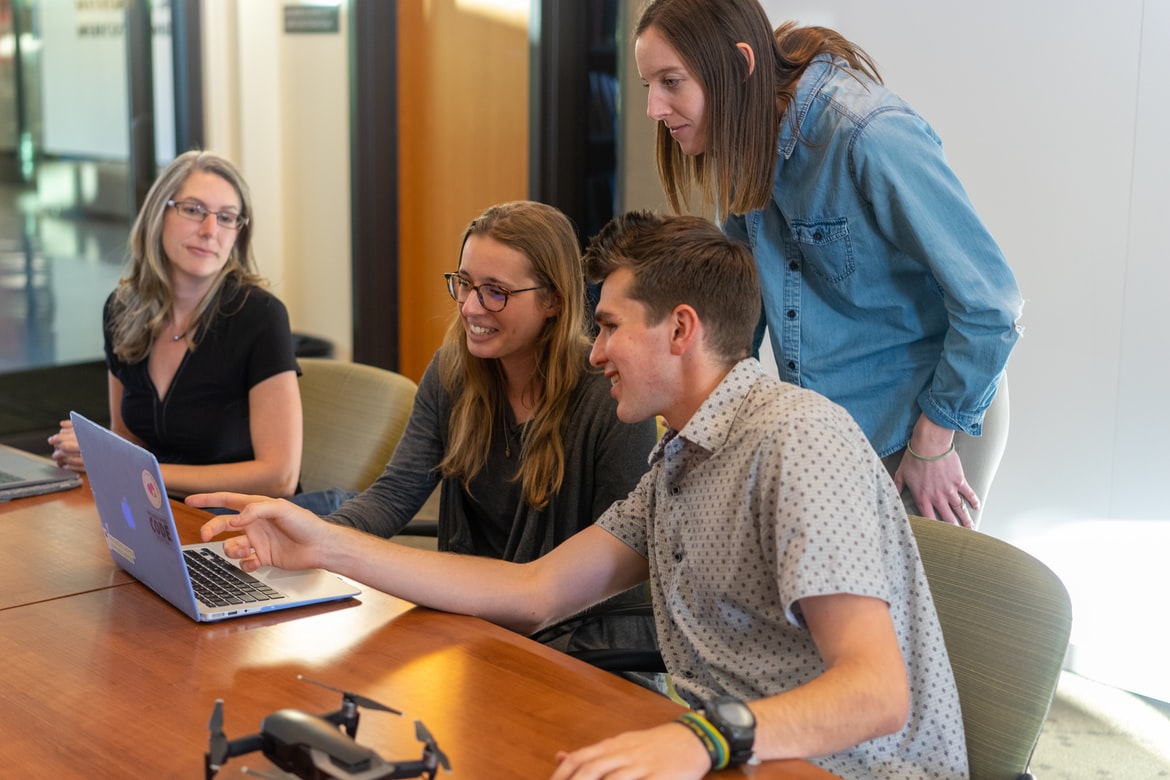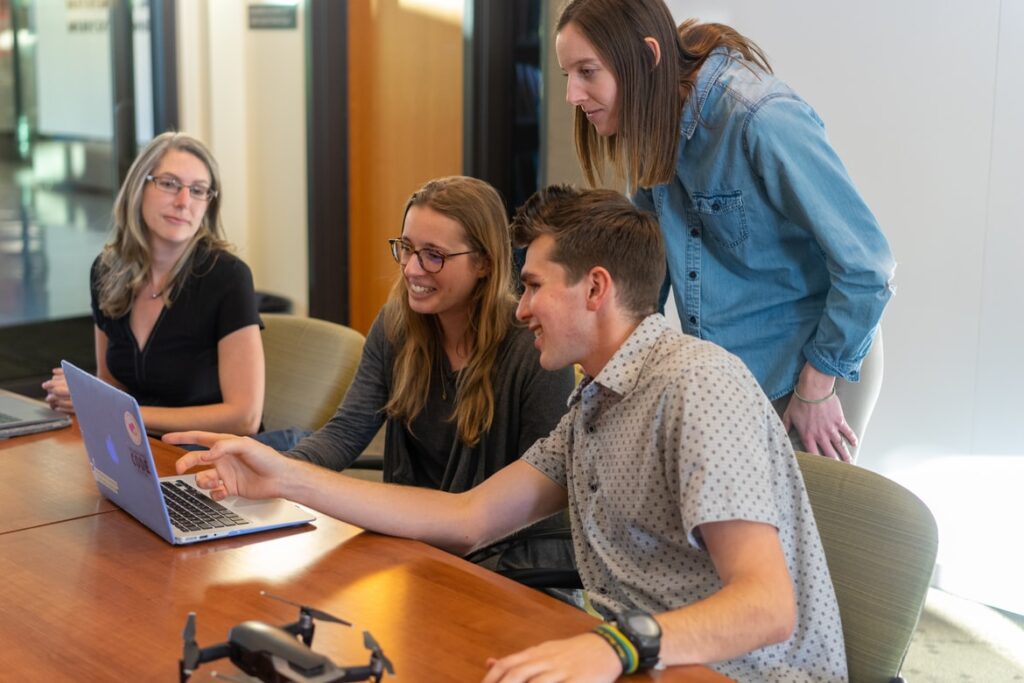 Investment in organic SEO can also lead to increased trust in your business. Users tend to value high-ranked websites as they trust Google to provide them with useful and relevant information. It's also a long term solution to marketing, as once your website is given a top ranking, it's likely to stay there. Rather than having to reinvest in more marketing solutions, provided your content stays relevant, you should maintain your position on that all-important first page.
Organic SEO is an excellent way to generate local business. Many customers want to use or support local businesses, and when it comes to IT services they might want a bricks-and-mortar company to visit. By including information applicable to your area such as your address, phone number or franchise details, you will be more likely to appear in a local search.
Should you deploy organic SEO on your own or with an SEO Marketing Agency?
Google and other search engines employ closely-guarded algorithms in order to analyse websites for good SEO. These don't even stay the same – they are constantly being changed and updated. There are some tactics you can employ to navigate this, such as using Google's own SEO checker and tools for removing outdated content. Researching websites similar to your own for useful keywords can also provide an insight into the best way to generate traffic.
However, all this takes time and expertise and for the most effective results you'll want to employ an SEO specialist marketing agency. An agency such as Deo-Dar will do the hard work for you, ensuring that your website is up-to-date and ready to send customers direct to your business. An agency will also keep up with the latest guidelines, enabling Google to find and understand your pages. They will take care of the details, checking the website structure to make sure it's user friendly, using quality back-links and meta-titles. Ultimately, with the help of a specialist agency, your company will have a website that really works for you, giving you the high ranking you need to turn organic traffic into profit.
Utilizing Growth Hacking Techniques in the IT Industry
As the IT industry becomes more competitive, traditional marketing methods are often not sufficient to achieve rapid growth. Growth hacking is the key to achieving success in this area. It is a method of identifying the most efficient methods of growing a business by experimenting across marketing channels and product development.
Generating More Leads with Growth Hacking Techniques
Growth hacking involves a deep understanding of your users' behavior and leveraging this insight to develop innovative marketing strategies. By creating a user-centric approach, you increase the chances of turning prospects into leads, and eventually into loyal customers.
One of the key aspects of growth hacking is the ability to test, measure, and iterate marketing strategies quickly. This data-driven approach enables businesses to identify what works best for their target audience and double down on those strategies, leading to a higher conversion rate and ultimately generating more leads.
Growth Hacking Strategies for IT Companies
Leveraging Existing Networks: Encourage your current users to refer others to your product. Dropbox is a great example of this. They offered additional storage space to users who referred their friends, resulting in exponential growth.
Creating Viral Content: Content that's engaging and shareable can reach a wider audience. This could include blog posts, videos, infographics, or even software tools that are useful to your audience.
Partnerships and Integrations: Collaborate with other companies that offer complementary services. This can help you tap into their user base and vice versa. For instance, a software company might partner with a hardware manufacturer to provide integrated solutions.
Product-led Growth: Make your product the main driver of your company's customer acquisition, conversion, and expansion efforts. This can be achieved by focusing on improving the user experience, adding valuable features, and encouraging user engagement. Slack, for instance, grew rapidly by offering a product that people loved to use and could try out for free.
Optimize Conversion Rates: Use A/B testing to experiment with different elements of your website, emails, and landing pages to see what results in higher conversion rates. Small changes to call-to-action buttons, headlines, or even the color scheme can lead to significant improvements.
Data-Driven Decisions: Leverage data analytics to understand your users better and personalize your marketing efforts. This can lead to higher engagement and more conversions.
Utilize SEO: Make sure your website is optimized for search engines. Use the right keywords, build quality backlinks, and ensure your site is fast and mobile-friendly.
Growth hacking techniques can significantly accelerate your business growth, but it's important to remember that what works for one company may not work for another. The key to successful growth hacking is continual testing, analyzing, and refining your strategies. It's about adopting a mindset of experimentation and being willing to take calculated risks.
Maximizing Profit Through Lead Conversion in the IT Industry
Once a company has successfully attracted leads, the next crucial step is to convert these leads into customers. Converting leads is an art that involves nurturing relationships, building trust, and demonstrating the value of your offerings. By improving customer engagement, companies can drive conversions and increase their profits.
Strategies for Effective Lead Conversion
Lead Scoring: Not all leads are created equal. Some are more likely to become customers than others. Lead scoring involves ranking leads based on their level of engagement with your content, their fit with your buyer personas, and their likelihood to make a purchase. By focusing your efforts on high-scoring leads, you can increase conversion rates and make your sales process more efficient.
Personalized Marketing: Personalization can significantly improve conversion rates. This might involve using the lead's name in emails, tailoring content to their specific needs or interests, or offering personalized product recommendations.
Effective Follow-ups: Timely and meaningful follow-ups are crucial in lead conversion. This could involve sending a thank-you email after a lead downloads a whitepaper, offering a free trial after they attend a webinar, or simply reaching out to ask if they have any questions about your product.
Value Demonstrations: Showing leads the value of your product or service can encourage them to make a purchase. This could involve case studies, customer testimonials, free trials, or product demos.
Sales Team Alignment: Your sales team plays a critical role in converting leads into customers. Ensure they understand your buyer personas, are well-versed in your product's features and benefits, and are equipped with the tools they need to close deals effectively.
Boosting Profits Through Customer Engagement
Improving customer engagement is not just about increasing the amount of interaction between your company and your customers. It's about making those interactions count.
Engaged customers are more likely to become repeat customers, more likely to become brand advocates, and more likely to provide valuable feedback that can help you improve your products or services. Each of these outcomes boosts your bottom line.
Here are a few strategies to improve customer engagement:
Content Marketing: Regularly publishing high-quality content can keep your brand top-of-mind and provide value to your customers, encouraging them to engage with you.
Social Media Interaction: Regularly engaging with your customers on social media can make them feel valued and heard. This can involve responding to comments, asking for feedback, or even hosting contests or giveaways.
Email Marketing: Personalized emails can keep customers informed about new products, promotions, or helpful tips, increasing their engagement with your brand.
Customer Support: Excellent customer support can turn a one-time customer into a repeat customer. Make it easy for customers to get help when they need it, and they'll be more likely to stick around.
In conclusion, effectively converting leads into customers and enhancing customer engagement are crucial for maximizing profit in the IT industry. Both require a deep understanding of your customers' needs and a commitment to providing value at every stage of the buyer's journey.
Scalability and Lead Management in the IT Sector
In the rapidly evolving IT industry, scalability and effective lead management are essential components of a successful business. As your business grows, so does the volume of leads, necessitating a system that can effectively adapt and manage this influx without compromising quality or efficiency. Incorporating marketing automation into your strategy can be a game-changer in handling leads effectively, driving your business's scalability.
Adapting Your Lead Management System as Your Business Grows
The ability to adapt and scale your lead management system with business growth is vital. An excellent lead management system is flexible, capable of growing with your business, and accommodating an increasing volume of leads. Here's how it can adapt:
Upgradable Infrastructure: A system that can expand its capacity to store and process more data as the business grows is fundamental. Cloud-based CRM systems are an excellent example as they offer flexible storage capacities and can be upgraded as your needs evolve.
Integrations: As your business grows, you may need to integrate your lead management system with other tools like marketing automation software, email marketing platforms, customer service software, etc. A scalable lead management system will allow for these integrations, providing a more holistic view of your leads.
Automation: As your lead volume grows, manual processes can become unmanageable. Automating tasks such as lead scoring, segmentation, and follow-ups can ensure leads are managed effectively as your business scales.
Advanced Analytics: As the number of leads increases, so does the complexity of your data. Advanced analytics can help you make sense of this data, uncover insights about your leads, and inform your marketing strategies.
Benefits of Marketing Automation for Managing Leads
Marketing automation is the use of software to automate repetitive marketing tasks, making processes more efficient and reducing human error. It's a powerful tool for managing leads and can offer several benefits:
Efficiency: Marketing automation can handle tasks like sending emails, posting on social media, and updating CRM data, freeing up your team to focus on strategy and creativity.
Personalization at Scale: Automation tools can segment your leads based on various criteria, allowing you to send personalized content to thousands of leads at once.
Lead Scoring and Qualification: Marketing automation can help you score and qualify leads based on their behaviors, ensuring your sales team focuses on leads most likely to convert.
Tracking and Analytics: Marketing automation tools can track leads' interactions with your content, providing valuable insights into their interests and behaviors.
Improved Lead Nurturing: With automation, you can set up drip campaigns to provide leads with relevant content at the right time, nurturing them through the sales funnel more effectively.
In conclusion, scalability and efficient lead management are crucial to the growth and success of any IT business. As your company grows, so should your lead management system, and incorporating marketing automation can significantly enhance your ability to manage leads effectively. Such a strategy ensures that even as your lead volume increases, every prospect gets the necessary attention, enhancing your conversion rates and ultimately, your bottom line.
Harnessing the Power of Social Media in the IT Sector
In the digital age, social media has become a powerful tool for businesses in all industries, including IT. These platforms offer a multitude of opportunities for companies to engage with their audience, spread brand awareness, and ultimately, generate more leads. Furthermore, the advent of influencer marketing provides a novel approach to enhance a company's online visibility and lead generation capabilities.
Generating More Leads Through Social Media Channels
IT companies can leverage social media channels in a variety of ways to generate leads:
Engaging Content: Sharing informative and engaging content on your social media platforms can attract potential leads. This content could range from blog posts, infographics, or videos that provide value to your audience.
Social Advertising: Platforms like Facebook, LinkedIn, and Twitter offer advertising options that can be targeted to specific audiences. By using these platforms to promote your content or products, you can reach a broader audience and attract more leads.
Direct Engagement: Social media allows you to directly engage with your audience. By responding to comments, joining relevant conversations, or hosting Q&A sessions, you can build relationships with potential leads.
Lead Generation Forms: Some social media platforms, like LinkedIn, offer lead generation forms that users can fill out without leaving the platform. This makes it easy for potential leads to express interest in your products or services.
Influencer Marketing for Enhanced Online Visibility and Lead Generation
Influencer marketing involves partnering with influential individuals in your industry who can promote your brand to their followers. Here's how it can enhance your online visibility and lead generation efforts:
Expanded Reach: Influencers have large, engaged audiences. By partnering with an influencer, you can reach a broader audience that might not have been aware of your brand.
Increased Trust: People tend to trust recommendations from individuals they admire or respect. If an influencer promotes your product, their followers are likely to view your brand more favorably.
Improved Content Strategy: Influencers are content creation experts. They can help you create engaging content that resonates with your target audience.
Targeted Marketing: Influencers often have niche audiences. By choosing an influencer whose audience aligns with your target buyers, you can ensure your marketing efforts reach the right people.
In conclusion, social media and influencer marketing can be powerful tools for IT companies looking to generate leads and increase their online visibility. By creating engaging content, interacting with your audience, and leveraging the power of influencers, you can attract more potential customers and grow your business.
Ensuring Data Security in Your Marketing Efforts for the IT Sector
In today's digital world, data security has become an increasingly crucial aspect of conducting business, particularly for IT companies. Maintaining high data security standards not only safeguards your business but also attracts more leads. Simultaneously, transparency about these practices is pivotal in building trust with potential leads and existing customers.
Attracting More Leads Through High Data Security Standards
Brand Reputation: High data security standards can boost your brand's reputation, making it more appealing to potential leads. In the IT sector, where the handling of data is often a core component of the service, strong security measures can differentiate your company from competitors.
Trust-Building: The assurance of data protection allows potential leads to engage with your company without fear of data breaches. When prospects trust you with their data, they are more likely to convert into customers.
Compliance Advantage: Companies that adhere to global data protection regulations, like the General Data Protection Regulation (GDPR), can attract leads from various regions, expanding their market reach. Compliance showcases your commitment to your customers' privacy, attracting quality leads.
Importance of Transparency About Data Security in Building Trust
Transparency about data security is a non-negotiable aspect of modern marketing. Here's why:
Building Customer Trust: Openness about how you handle data security issues fosters trust. When leads trust your business, they're more likely to share their information, try your product or service, and eventually convert into customers.
Demonstrating Compliance: Being transparent about your data security measures demonstrates that you comply with data protection laws. Compliance reassures potential leads about the safety of their data and signifies that your company is reputable and trustworthy.
Preventing Misunderstandings: By being clear about your data security measures, you can prevent misunderstandings that could lead to mistrust. This transparency includes explaining what data you collect, why you collect it, how you use it, and how you protect it.
Promoting Open Dialogue: Transparency encourages open dialogue about data security. By addressing concerns and answering questions, you can build stronger relationships with potential leads.
In conclusion, maintaining high data security standards and being transparent about them can significantly impact your lead generation and conversion rates. In an era where data breaches are increasingly common, companies that prioritize data security can stand out from the competition and build stronger, more trusting relationships with their leads and customers.
Conclusion
In this fast-paced, competitive IT industry, developing a robust marketing strategy is no longer a luxury, but a necessity. Through understanding the IT market landscape and identifying your target audience, you lay the groundwork for a marketing strategy that connects with the right people and communicates the right message.
The creation of an effective marketing strategy involves leveraging your competitive advantage, adopting a data-driven approach, and harnessing the power of content marketing. These aspects attract and engage leads, improving the return on investment.
Embracing growth hacking techniques and using their ingenuity can supercharge your lead generation, while the careful nurturing and conversion of leads can drastically boost your bottom line. Always remember, it's not just about acquiring leads but turning them into loyal customers.
The scalability of your business and lead management system should adapt to your growth trajectory. Incorporating marketing automation can streamline operations, making the task of managing an increasing volume of leads more manageable.
Harnessing social media and the reach of industry influencers can enhance your online visibility, spread your brand's message, and generate more leads. The interactive nature of these platforms allows direct engagement with potential leads, fostering a connection that could lead to business conversion.
In an age of heightened data sensitivity, maintaining high data security standards and being transparent about your practices is not just essential for compliance, but a significant trust-building factor. It assures leads and customers that their data is safe with you, which can enhance your reputation and attract more leads.
In conclusion, the world of IT marketing may seem complex and overwhelming, but by breaking it down into these key areas and implementing the recommended strategies, you can navigate it with increased confidence and success.
Remember, the key lies in understanding your audience, meeting them where they are, and offering them value. Start implementing these strategies today, and be sure to monitor their success and tweak them as necessary. The IT market is a constantly evolving space, and your marketing strategies should be just as dynamic.
If you need professional assistance in this journey, Deo-Dar Marketing is here to help. We have extensive experience in the IT industry, offering tailor-made marketing strategies to help IT companies effectively generate leads and grow their business. Please feel free to contact us to discuss your specific marketing needs or any questions about the strategies discussed in this article.
Good luck, and we look forward to the opportunity to assist you in navigating the exciting world of IT marketing.