All You Need to Know About Real Estate SEO in 2023
Real estate is one sector that stands to benefit greatly from proper SEO implementation in the ever-evolving field of digital marketing. It is a highly competitive business, with thousands of real estate agents vying for the attention of prospective buyers and sellers. The battle for visibility is increasingly being fought online, with search engines serving as the battlefield.
As we explore the significance of real estate SEO  in this article, we will also see how keywords can significantly enhance the online presence of real estate agents and real estate companies. In addition, we will provide a few tips on how to increase the visibility of real estate websites in search engines, so they can attract more traffic and, ultimately, generate more leads.
The goal of online searches for real estate businesses is clear: they must rank high in search engine results. In what way? As a result, higher search engine rankings are associated with increased visibility, increased traffic to websites, and potentially increased client acquisition. In order to do this, real estate agents must ensure that their content contains the appropriate real estate SEO keywords.
Search engine optimization keywords are the terms and phrases that people use to search for information on the internet. Using a search engine, for example, a user can type "real estate agent in New York" in order to find a list of real estate websites that match the query. Any real estate agent should therefore be aware of what potential clients search for and incorporate these phrases into their content.
It is important to use location-based keywords when optimizing for real estate websites. A prospective buyer or seller often searches for agents and listings in a particular area. You can significantly improve your website's visibility to local searchers by using keywords such as "[your city] real estate agent" or "[your city] real estate listing.".
Real estate websites should not only use the right keywords but also provide high-quality content. Both users and search engines will be more attracted to a website with informative blog posts, detailed property descriptions, high-quality photos, and virtual tours.
Aside from optimizing the main elements of a website, real estate companies should also optimize other elements of their sites. This includes improving the website's speed, creating a mobile-friendly version, and ensuring that the website is secure (HTTPS). There are a number of factors that can affect the ranking of a website in search engines, and they should not be ignored.
The use of SEO strategies like link-building and social media marketing is also important for real estate agents. In order to improve search engine rankings, high-quality content can be shared on social media platforms and backlinks can be earned from reputable websites.
A real estate business cannot ignore the importance of online reviews. In addition to encouraging satisfied clients to leave positive reviews on Google or Yelp, agents can also improve their online reputation, which in turn can improve their search engine ranking.
Last but not least, it is important to note that SEO is not a one-time process, but one that continues over time. Keeping a website up-to-date with fresh content is crucial for real estate agents, as well as continually optimizing it based on the changes in search engine algorithms.
To conclude, SEO strategies can provide real estate agents with a significant competitive advantage in the highly competitive real estate industry. Real estate agents can increase their online visibility, attract more clients, and succeed in their real estate businesses by using the right real estate SEO keywords, providing high-quality content, and continuously optimizing their websites.
Despite being a crucial factor in real estate professionals either thriving or failing to run their business online, the world of Search Engine Optimization (SEO) is still profoundly misunderstood.
You might already be familiar with the concept of keywords and SEO formatting, but a comprehensive real estate SEO strategy is about a whole lot more than just that — great SEO is more than a simple marketing technique, it is an invaluable skill for digital growth!
The process requires plenty of research into search engine analytics, into your local market, and into your competition, so that you can improve your ranking and get on the first page of your niche's Google results.
Now, ambitious objectives such as these require a lot of work and dedication, so it's not surprising that many real estate agencies and realtors choose to look the other way and avoid dealing with SEO for as long as they can.
But not engaging with real estate SEO strategies from the get-go means doing a disservice to your business and your future growth!
So, what do you need to know to get started in real estate Search Engine Optimization and make the most out of your digital presence?
Here's all you need to know about real estate SEO, including the key benefits of incorporating an SEO strategy into your website and content and how to find real estate SEO services that fit your professional needs!
What Is SEO in Real Estate or Realtors?
Let's start with the basics first: What exactly do we mean when we're talking about SEO in the real estate industry?
Generally speaking, the term SEO refers to implementing a number of principles into your digital strategy (from incorporating high-traffic keywords into your website copy to making the entirety of your site UX-friendly) to increase traffic and boost your visibility on search engines.
In the context of real estate, SEO refers to the organic practice of increasing both the quality and the quantity of traffic to your website, from your about us page to your local listings, without spending anything on pricey ads.
The organic nature of SEO is exactly what makes this marketing technique so crucial for promoting growth and accelerate lead acquisition, but it doesn't mean the process is going to be effortless.
Search Engine Optimization requires realtors to improve their website's page load speed, create quality long-form content on a regular basis, improve their listings to include all the right keywords, use quality backlinks, and rework their website's structure to make it more accessible and user-friendly to navigate.
On top of that, SEO newbies should keep in mind that these basic principles are not set in stone: Google routinely changes its SEO requirements as time goes on, so what would have made for an SEO-friendly website in 2016 won't work as well in 2021!
Keeping up to date with the latest guidelines will always be your best bet if you're looking to create a high-ranking, beautiful, and accessible website, so you can attract more of the right kind of customers with little day-to-day work.
Does SEO Work for Real Estate?
While Search Engine Optimization is essential for attracting traffic to any website, there are still many real estate professionals doubting its efficacy in their industry.
That is probably because the approach needed to make SEO work for real estate is a little different from what an e-commerce or personal blog might need: Real estate SEO is all about leveraging location and improving your local search results, as opposed to targeting the entire online world.
So the good news is that, when taking your real estate work online, you won't have to compete against thousands of real estate professionals from all over the world. Instead, your focus will be to dominate the local market and local search results, and as a general rule of thumb, the more specific you can get the more you'll be able to boost online visibility and traffic.
Of course, this is all easier said than done.
But whether you choose to take care of your own local SEO or get in touch with a trustworthy agency for real estate SEO services, following a few essential steps will guarantee your website is given a fighting chance in the digital landscape, no matter how fierce your local competition might be!
Why Does Real Estate Need SEO?
Before we move onto the key steps needed to make your hyper-local real estate SEO work, we want to take a little extra time to explore why, exactly, the real estate industry needs SEO to thrive and why you should consider investing in an SEO strategy as a realtor.
Why should any busy professional spend so much time reviewing their website's SEO-friendliness if the benefits of doing so are minimal, after all?
Generally speaking, there are three main benefits to creating an SEO-friendly website, no matter how big or how small your business might get:
Easier Lead Generation
The first benefit of implementing a solid SEO strategy into your real estate marketing is more efficient and considerably easier lead generation.
In many ways, real estate SEO works as a lead generation engine, attracting more leads to your offer and having them browse your listings and content for longer, boosting the likelihood of those leads becoming clients!
By focusing your SEO efforts on specific pages designed to attract leads (such as your landing page, contact page, local housing market insights, and blog) you can ensure your target audience will see your page over your competitors and stay on it for longer, all thanks to optimal load page speed and an easy-to-navigate structure. In fact, a whopping 60% of marketers agree that SEO content is their highest-quality source of leads!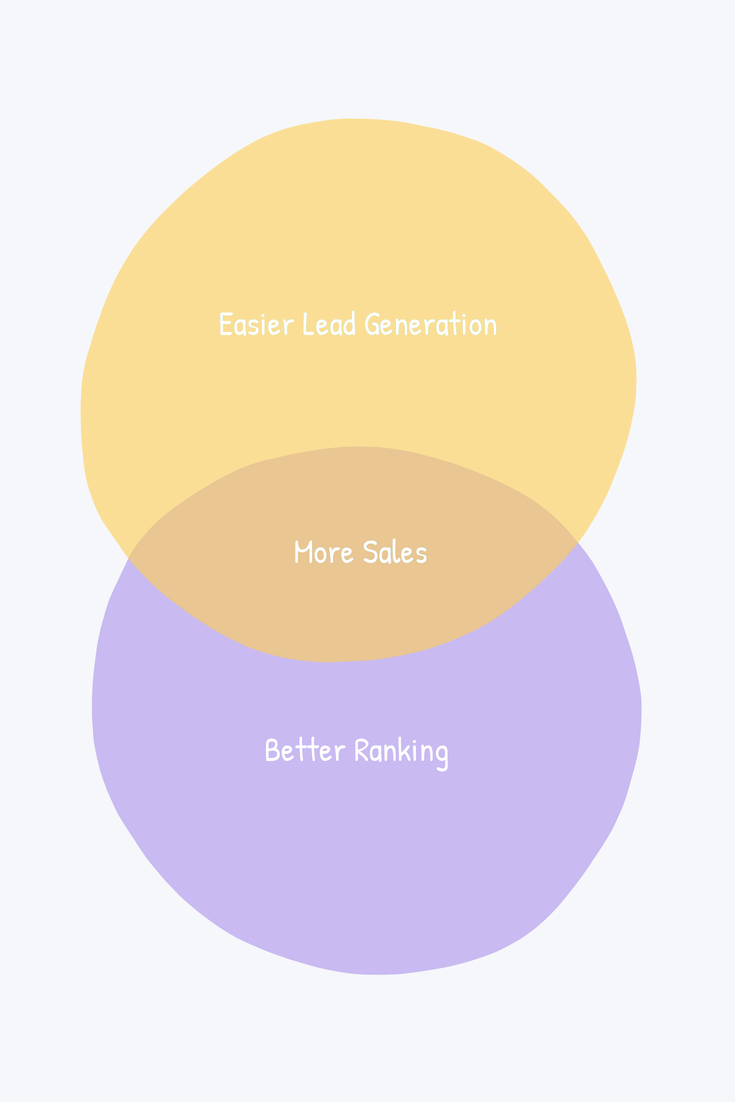 Of course, your lead generation SEO work will work best when coupled with other lead gen efforts, such as Google ads, engaging social media campaigns, and click-worthy email marketing campaigns — at the end of the day, a healthy number of quality leads and customers is what makes a real estate business thrive!
Better Ranking
Another great benefit of paying more attention to your SEO is improved search engine ranking, also known as the best way of improving organic traffic.
Think about it: When is the last time you went all the way to the second page of your Google results?
We're willing to bet you can't even remember!
Your goal should be getting your website on the first page (or better yet, the first five results) of a related Google query to generate the leads your business needs, and improving your pages' SEO score is the best way to start ranking higher.
As an added bonus, SEO can not only drive over 1000% more traffic than social media marketing but also help establish your business and persona as the go-to expert in your local market — all in all, there's a lot of power in ranking high!
More Sales
Finally, implementing a solid SEO strategy can help you get more daily inquiries and sales, much as a direct result of improved traffic and leads.
Now, we know that attracting the right kind of person to your website doesn't necessarily mean you'll enjoy all the success that comes with increased sales. That's exactly why, on top of using SEO copy and architecture to make your target audience discover you, you should also make sure to use SEO techniques that will keep your leads interested in your offers and listings throughout.
The best way to do that is to pay attention to Google's E-A-T (expertise, authority, trust) guidelines and improve your pages' UI and UX for better accessibility. Quality SEO content and above-average loading speeds can make a considerable difference when it comes to boosting sales!
Understanding Local SEO for Real Estate
So, with the main benefits of improving SEO out of the way, let's get down to the practice: How can you actually leverage the hyper-local nature of real estate SEO to your advantage?
It goes without saying that the first step you should take is getting your website SEO audited, so you can see what you're doing right and what pages would need improvement instead. This audit will cover everything from Core Web Vitals to ranking, and it will give you a clear overview of the real estate SEO services you need the most, saving you a lot of money in the process.
Once you have this blueprint, there are five additional steps we recommend all realtors take so they can improve their organic traffic and boost lead generation, either on their own or with the help of a professional SEO expert:
   1. Analyze your competitors
You might know your local competitors like the back of your hand, but knowing your SEO competitors is a whole other animal!
Running an SEO competitor analysis is crucial to understand what pages your pages are going against when it comes to search engine results, so you can get a better idea of what's working for them and what you could replicate to get your site closer to the top of your query's search results.
The top things you should focus on are the keywords they are using the most, the kind of content they're putting out, the way their listings are structured, and the authority links they are including in their pages.
Once you have a clearer idea of what's working for them, you can start doing the same research for your local competitors, as well as try different queries and keywords to get a broader sense of how you could dominate any competition.
   2. Research your keywords
The following step will be to research your relevant high-ranking keywords as well as more specific long-tail keywords to get an idea of what type of content and what pages you should prioritize working on.
Popular keywords like "house for sale" and "realtors near me" are always going to be at the top of the list and should be included in your copy, but leveraging the hyper-specificity of real estate SEO will take your efforts much further.
So, make sure to use high to moderate-volume keywords that include the state, city, and neighborhood you operate in, as well as trying long-tail queries with specific questions relevant to your listings and your area of expertise to get ahead of the competition!
   3. Produce quality content
Once you have your keywords, it's time to start working on your pages' content, so that the handy crawlers can do their job and get your copy in front of the right people!
Using your competitor analysis as a guide, start reworking your website's pages from "about us" to contact form, as well as producing regular SEO-friendly content in the form of weekly insights and blogs.
Keep in mind that each piece of copy is not only an opportunity to use your relevant keywords and authority links but also the best chance you have to display your expertise in the local housing market.
Leads will want to work with an authoritative professional, so creating engaging content that reflects that knowledge (such as monthly insights on the housing market, tips for house hunters and sellers, local guides, and so on) will go a long way in ensuring your leads will convert!
   4. Focus on your local presence
Using location-relevant keywords and writing location-specific content is really just the start when dealing with real estate SEO.
The rest of the work will be getting your business in front of as many locals as possible, so you should make the most out of all the tools at your disposal to appear at the top of local searches, every time.
Claiming your Google My Business listing spot will boost your local visibility more than any keyword, as will mentioning your business name and address in as many pieces of content as you can!
   5. Use a schema markup designed for real estate
Finally, our last piece of advice is to get familiar with the basics of HTML and start using structured data (also known as schema markup) to help crawlers decipher all the information on your website more accurately, getting more quality leads in front of your offer in return.
The RealEstateListing schema is the perfect tool for the job: The code will help you elevate your listings by making key features like "date posted" and "lease length" easier to understand for search engines and, in turn, easier for your target audience to discover.
You can use similar schema markups for number of rooms, number of occupants, type of residence, virtual tours, and even things like booking slots and FAQs. They might be tiny snippets, but when put together with great keywords and great content, they can really make a difference in your ranking!
Find the Perfect Real Estate SEO Services for Your Needs
Mastering real estate SEO is definitely not an easy feat, so it shouldn't come as a surprise that many real estate professionals end up enlisting the help of an SEO expert or SEO company to deal with their search engine optimization efforts, from technical auditing to weekly content.
How much an SEO company will charge will largely depend on your needs and their reputation, but you can expect a comprehensive, full-month campaign to run you between $500 and $1k, mostly depending on the scope covered.
On average, most small businesses spend just under $500 per month to get their SEO needs met, with higher spending equating to higher satisfaction.
Whatever budget you might have in place for SEO and digital marketing as a whole, shopping around is usually not recommended — what you want to find is the right fit for your needs and niche instead!