The world of finance is changing, and you want to keep up. Your business is thriving, but are you being noticed by the widest possible audience? With strategic Search Engine Optimisation (SEO) you can target your ideal customer organically and put your website at the top of their Google search list. By carefully selecting keywords for your website content and writing useful, accurate copy, Google (or any other search engine) will analyze your articles and rank your business accordingly. A top ranking will lead to:
appearing in customer searches

increased traffic through your website

higher customer engagement

more sales and more profit
Generate more leads for your business with the top services for SEO for a financial service company or advisors
Whatever your business, by using high-quality keywords you will be more likely to rank on the first page of a Google search. Even faced with competition from huge brands, you can reach your desired audience, increase website traffic and ultimately grow your business and generate more income.
What is SEO for financial services?
As a finance company, it's imperative that your customers can trust your products and services. You want your company to maintain its good reputation, and provide your customers with peace of mind. Good SEO and a high ranking will show that you are trusted by Google's complex algorithm and that you are an authority in your field. Although the more traditional methods of direct mail, print adverts and brochures still have their place, conversion rates for SEO tend to be higher as your ideal customer has found you through their own targeted searching.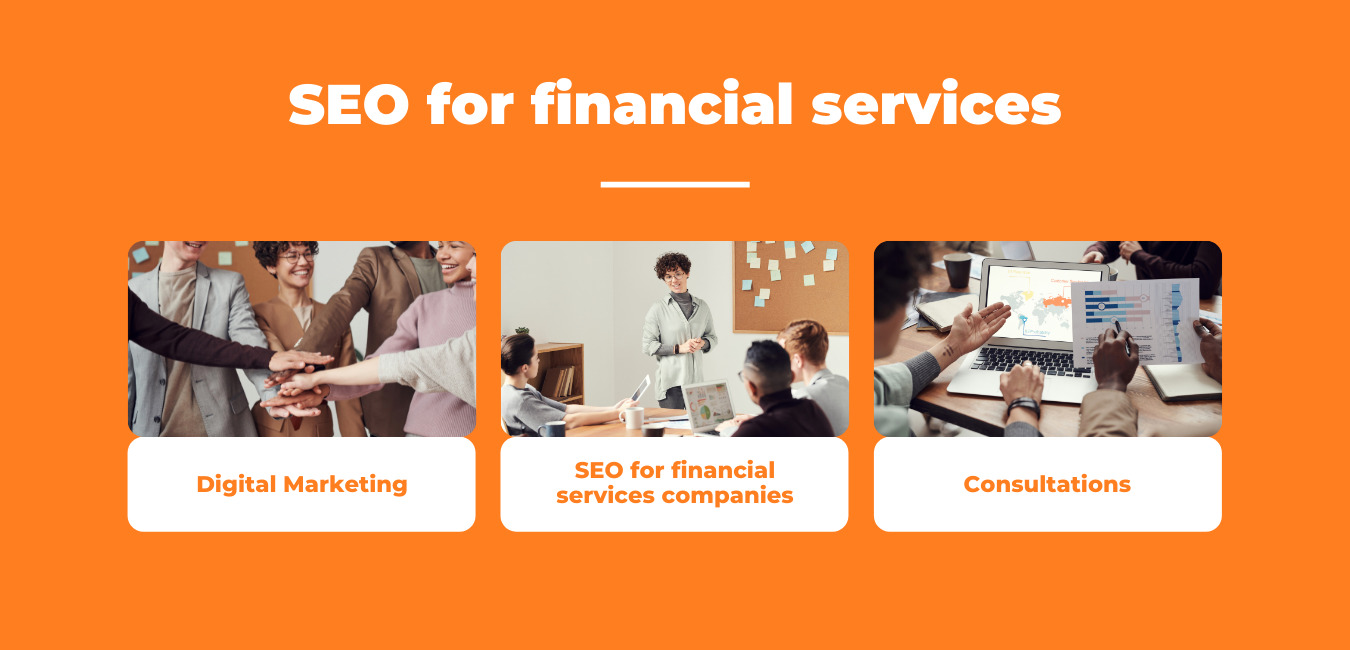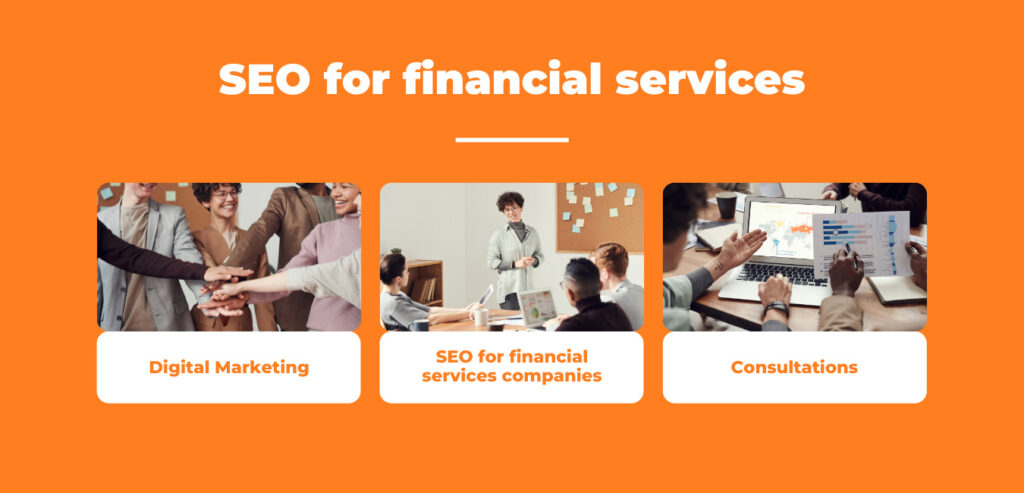 What is unique about Financial Services SEO
Because the customers of a Financial Services company put a high level of trust in the businesses they deal with, the industry must provide security and expertise. Any website that deals with money is known as a YMYL (Your Money or Your Life) site. Google puts a particular emphasis on the quality of these pages, as they can influence an individual's quality of life. Financial information pages, (to do with tax, insurance, pensions and property) and financial transaction pages (where customers can pay bills or make transactions online) fall into this category. Your site will be scrutinised by the search engines for accuracy, trust and customer focus.
SEO challenges within financial services
Although the SEO algorithm is complex and constantly being updated, in 2015 Google released its Search Quality Evaluator Guidelines in response to a leaked document. These provide us with three keys to how Google evaluates web pages:
Beneficial Purpose: All highly ranked websites will have a purpose, whether that is to inform or entertain. Financial websites must be user-centered and helpful rather than just for financial gain. This will provide a high PQ (page quality) rating.

YMYL (Your Money or Your Life): Because of the impact these pages can have on people's lives, they must be accurate, truthful and carefully written.

EAT (Expertise, Authoritativeness, Trustworthiness): The customer must be able to trust that the content is written by someone with expertise. They should have credentials to back up what they are saying and these should be easily found on the website. To be an authority, you should also be a market leader.
If Google evaluates your company's website and it rates highly in all three categories, your ranking will soar and you will soon reap the benefits of the increased traffic. However, as the growth of Fintech and financial services is increasing and more companies are realising the benefits of SEO, all businesses no matter how small must ensure their pages are well written and accurate. Your website must be clear, easy to navigate and with content that explains financial concepts in easy-to-understand language.
10 tips for better SEO for financial services, Banks & Advisors
Check your current SEO. There are a number of free checkers available through Google that will determine whether your current keywords and content are being picked up by the search engines.

Analyze your headlines and meta-titles. Are they unique and engaging?

Research your keywords. As an industry expert, you are well-placed to know the keywords most likely to attract your audience.

Analyze your competitors: The websites of your competitors are freely available, and you can analyze these and compare the content with your own.

Review your content: Determine whether your articles are customer-focused and helpful.

Ensure your content is written by an expert: As a YMYL website, Google expects articles to be written by specialists who have the qualifications to back up their claims.

Remove outdated content: The financial services industry is fast-paced. Regularly check your website to make sure all of the content is relevant.

Monitor your content: Make regular checks of your content and keywords.

Make sure your website performs at an optimal speed: Consumers will not wait for a slow-loading site.

Add links to social media: Even adding likes and tweets can improve rankings on Google.
KPIs to keep track of:
KPIs (Key Performance Indicators) are measurable indicators of performance over time for a particular strategy or objective.
SEO rank (per page): check the current ranking of each page. Search for trusted keywords to see where your pages appear.
Impressions: How many times are your pages actually seen by users searching for relevant terms?
Traffic: How many people visit your site via search engines?
Engagement metrics: Analyze how much time a visitor spends on a page and how many pages they visit. Check the bounce rate (whether they just visit one page and then leave)
Conversions from organic traffic: Is the traffic generating conversions and following your call to action? This can be soft (signing up for regular emails) or hard (purchasing a product).
SEO Score: Platforms such as Deo-Dar give you a combined score to measure your SEO.
How SEO Marketing Agency Deo-Dar can help
Deo-Dar provides customizable Activity Plans that allows your business to work with SEO for the best possible outcome. All the information regarding keywords, content, and measurable ROI is
in one place, making it easy to use. SEO Marketing Agency Deo-Dar SEO also includes on-page diagnosis with 70+ SEO checks so you can ensure your content is fully optimized.
SEO Marketing Agency Deo-Dar also works with a Duplicate Content Finder that will find similar content clusters so you can ensure your website is well organised.
Why is local SEO for a financial services company a good investment?
Many customers will feel a loyalty to their local area and prefer to deal with a company close to home. They might also need a business that has a physical presence that they can visit in person. As far as SEO is concerned, it's important to ensure your company appears in local searches and that your keywords are specific to the area. If you have multiple offices, each location should have its
own details displayed. Monitoring local social media and reviews is also important.
Is SEO necessary for my financial services company?
As the world is becoming increasingly digitised, online marketing is becoming one of the most effective routes to generate business. Whether you are an established brand or a new company, you'll find that SEO can have the biggest B2C or even B2B engagement.
How SEO fits into a financial advisor marketing plan
By building a website with good SEO, you will generate more traffic to your business, and increase the likelihood of making a sale. It's worth noting as well that SEO is free, and a better strategy to use than paying Google each time a customer visits your site (another, expensive way to boost your rankings).
How to implement SEO into a financial services website.
By writing clear content that is helpful to the user, you stand the best chance of a high Google ranking. Focusing too much on 'keyword stuffing' (trying to force keywords into your copy to include as many as possible) will lead to penalties from any search engine. However, bear in mind that it also takes time to build a customer base and to build up trust so no matter how good your website, you may have to wait to see results.
In our detailed article "IT Companies Marketing," you can learn about the unique marketing challenges faced by IT companies and ways to overcome them effectively.